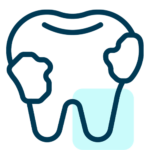 Periodontal Therapy Procedures
Periodontal therapy includes both surgical and non-surgical techniques to restore health to the tissues that support the teeth (gums and bone) and prevent tooth loss.
Scaling and Root Planing. These deep-cleaning techniques are the best starting point to control gum disease. Plaque and calculus (tartar) are removed from beneath the gum tissues, using hand scalers and/or ultrasonic instruments.