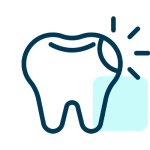 At CoMo Dental, we place composite resin tooth-colored fillings. This is not only for aesthetics, but also to help preserve natural tooth structure and avoid tooth fracture. Tooth preparation can be minimal compared to old amalgam-type preparation, and composite fillings have a "flex" factor that silver fillings don't have. Long term, this can help prevent the need for future crowns.
Crowns
A crown is a cover or "cap" your dentist can put over a tooth. The crown restores the tooth to its normal shape, size, and function. A crown can make the tooth stronger and/or improve the way it looks. You may need a crown if you:
have a cavity that is too large for a filling.
have a tooth that is cracked, worn down, or otherwise weakened.
have had a root canal treatment (the crown will protect the restored tooth).
want to cover a discolored or badly shaped tooth and improve your smile.